The Fire
This was discovered in an old document while looking for something entirely different which, of course, is how a lot of information is found. While there are some big oak trees in Brayton Barff and many old oak trees there are few, if any, ancient oaks and this article may explain why. This is dated 1789, that's over 300 years ago, and is from "The Gentleman's Magazine and Historical Chronicle".
A copy of the Article: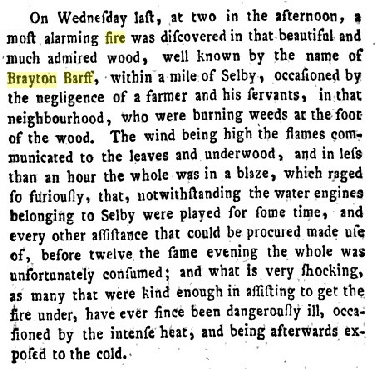 In today's text this would read as:
"On Wednesday last, at two in the afternoon, a most alarming fire was discovered in that beautiful and much admired wood, well known by the name of Brayton Barff, within a mile of Selby, occasioned by the negligence of a farmer and his servants, in that neighbourhood, who were burning weeds at the foot of the wood. The wind being high the flames communicated to the leaves and underwood, and in less than an hour the whole was in a blaze, which raged so furiously, that, notwithstanding the water engines belonging to Selby were played for some time, and every other appliance that could be procured made use of, before twelve the same evening the whole was unfortunately consumed; and what is very shocking, as many that were kind enough in assisting to get the fire under, have ever since been dangerously ill, occasioned by the intense heat, and being afterwards exposed to the cold."
Another, almost identical copy was also printed in the then "Country News" though slightly briefer, and shows the trees being worth approximately 5000 shillings (I think) which is around £250.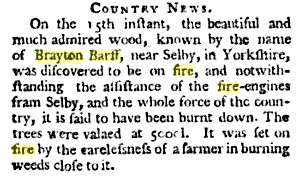 It reads as:
"On the 15th instant, the beautiful and much admired wood, known by the name of Brayton Barff, near Selby, in Yorkshire, was discovered to be on fire, and notwithstanding the assistance of the fire engines from Selby, and the whole force of the country, it is said to have been burnt down. The trees were valued at 5000l. It was set on fire by the earelesnefs of a farmer in burning weeds close to it."
That must have truly been one heck of a blaze but it was 350 years ago. With woodland and countryside fires today we know it is an almost impossible task to extinguish them. We also have a pretty good idea of the equipment and "fire engines" they have at their disposal today. However, 350 years ago they must have tried to extinguish the fire with these or similar: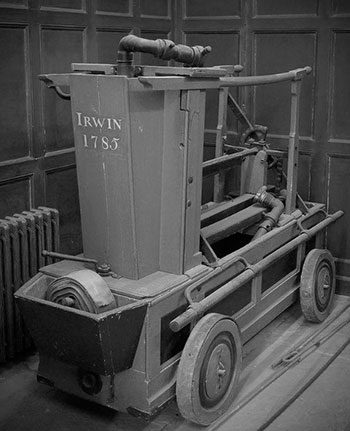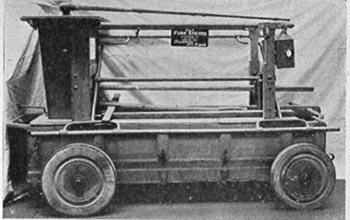 They must have been very brave men who attempted to fight the fire at the Barff in those times.
This gives rise to another thought, if they fought the fire from around 2pm until midnight, where on earth did they get the water from for the fire pumps?